Link Twitch to Monappy Video
6 Res. 1.12096084 MONA 2 Fav.
1 :Robin 五段:2017/07/02 15:19:51 1.11753742MONA/6人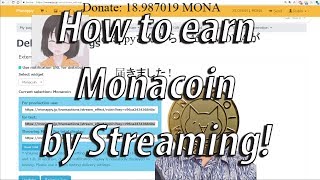 動画を見る


I made a video showing how to connect your twitch account to monappy.jp as well as show how to get notifications using CLR browser. If a popular streamer received monacoin and all their viewers saw, I think it would be make the viewers curious and want to check out Monacoin. This would be good for spreading Monacoin!

Should I add Japanese subtitles? Would that be useful?
Enjoy!
2 :名無し初段:2017/07/02 18:49:11 0.00114114MONA/1人
thx Robin :)
Let's Let's enjoy streaming XD
3 :ひとばしらさん五段錬士:2017/07/02 23:31:19 0MONA/0人
>>1

Cool!

I think that this video does not require Japanese subtitle.
We have a lot of Japanese information about Monappy's streaming.

I want you to give priority to easy-to-understand operation methods.
4 :もなこいにすた★七段教士:2017/07/03 08:58:06 0.00114114MONA/1人
But we do not have any instruction video in japanese such Robin posted.

5 :名無し四段:2017/07/03 09:14:52 0.00114114MONA/1人
Robin,

Thank you for helping to spread monacoin use case awareness!!!

I hope everyone will make an effort to send monacoin to popular streamers!!!


6 :ひとばしらさん五段錬士:2017/07/03 22:19:24 0MONA/0人
>>4

I think so,too.
However,Robin's time is not infinite.

I would like him to make the next video instead of translate this video to Japanese.
お気に入り
新規登録してMONAをもらおう
登録すると、投稿したり、MONAをもらったりすることができます。質問したり、答えたりしてMONAを手に入れてください。
新規登録
ログイン